Respite Care
There are times in our lives when we need a little extra help. Being a primary caregiver can be a demanding task, and respite is a great option to provide alternate care for someone you care about. Our Respite Care program is available to allow families an opportunity to rest from the daily tasks required for a loved one. This option can provide the caregiver a chance to de-stress, restore energy, or simply find balance in their own life. It is important that those caring for someone they love have the time to recharge and take care of themselves, in order to then be able to provide the best assistance to their loved one. Respite is a wonderful tool that can provide a temporary break, and ensure the healthcare needs of your loved one are looked after.
Our program is also perfect for individuals who are recuperating from a hospital/rehabilitation stay, or to just simply experience the lifestyle here. When someone is transitioning out of hospital, sometimes they need a go-between where they no longer need hospital care, but may need some additional assistance while they continue to recuperate. Often times, respite is the best option, as it means nurses and caregivers are on hand to assist, something most people would not have access to at home. By using respite care in this way, individuals are able to recuperate at their own pace, and families and friends can rest assured knowing their loved one is in good hands.
Trained team members work together to enhance continued dignity and trust as they provide care and assistance to their residents. We know the difference a kind smile and word can make in brightening someone's mood, and encouraging them along the road to recovery. If you feel respite may be the right option for you or someone who you care about, reach out to us to learn more. Our friendly team is available to answer questions and help you find the care that best suits your needs.
Call today for more information on Respite Care. We are always happy to schedule a tour and answer any questions you may have.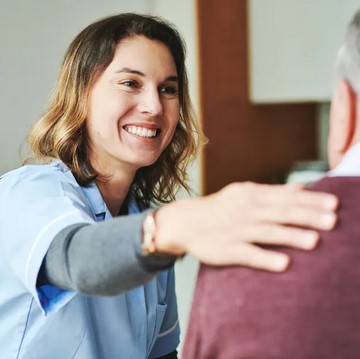 Experience a Trial Stay
We understand that it's not always easy to make a decision when it comes to senior care. If you or your loved one are considering retirement care, McMinnville Memory Care invites you to take advantage of our Respite Care stays as a trial run.
Our Respite Care is designed for seniors who wish to enjoy all the benefits of our luxurious memory care community without committing to a long-term stay. We welcome you to experience all that our inviting community has to offer. We are sure that your loved one will feel at home in no time.
To learn more about Respite Care trial stays at our community, please contact our team for information.
Our family has been extremely pleased with our experience at McMinnville Memory Care. We whole-heartedly recommend them to all our friends. All of the staff we have had the privilege of working with has been so kind, compassionate and helpful. To a person, they have shown they really care about the residents and treat them as their friends and almost an extension of their family. They are the best!
– Donna Jo – Family Member
The receptionist greeted me and the Director came out to tour with me. The residents were involved in a sing a long and it smelled good with no odors. The rooms were nice and clean. I liked the lay out of the common areas with lots of space but good visibility. My Mom is very social and I met lots of nice clients who would be a good fit for her.
Wow.. what a gem. I have visited many facilities and McMinnville Memory Care is doing a remarkable job. I found the Activities engaging and fun. They were having a group gathering with music and decorating the Christmas Tree. There were fresh baked cookies being made and lots of laughter was heard as the staff were very engaging with the residents. I'm grateful to have found this memory care for my Mom.
– Frederick Garvin – Daughter of Resident
Such a lovely building. The staff were attentive to needs while I visited. I enjoy the open area to move about and the Bistro, Fireside Room and Grand Piano to play. I was able to sing with the clients and found them so enjoyable to be around.
Michelle Larson – Visitor
Contact Us Today
We would love to provide you with more information on what our community has to offer!
SCHEDULE A TOUR TO COME SEE US ANYTIME
Located in a quaint neighborhood in Mcminnville, we think you'll love our community.
320 SW Hill Rd S
McMinnville, OR 97128