Our Person Centered Approach to Memory Care
We are dedicated to providing our residents with the highest possible quality of life. Our Memory Care program allows us to deliver a unique, personalized, and rewarding experience for both residents and their families.
With McMinnville Memory Care's person-centered approach to Memory Care, you can rest assured knowing that your loved one is receiving exceptional care in a safe and nurturing environment. We strive to provide each resident with a lifestyle that allows them to maintain their independence and dignity while receiving the highest level of assistance that they need.
The compassionate care provided at McMinnville Memory Care creates a warm and welcoming environment where our residents can thrive. Our home-like atmosphere encourages them to live as independently as possible, engaging in their favorite activities.
Learn more about our personalized care options and schedule a tour today.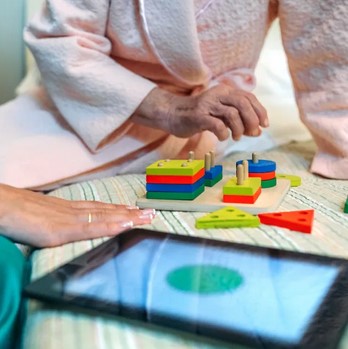 Our community provides:
A caring, home-like environment
Dementia-specific activities program
Licensed Nurses on site to monitor medical conditions, 16 hours a day, seven days a week
Furnished private or companion accommodations, each with its own bathroom
Support for difficult behaviors
Full service beauty and barbershop
Three meals served daily, plus snacks
Customized pricing
Our family has been extremely pleased with our experience at McMinnville Memory Care. We whole-heartedly recommend them to all our friends. All of the staff we have had the privilege of working with has been so kind, compassionate and helpful. To a person, they have shown they really care about the residents and treat them as their friends and almost an extension of their family. They are the best!
– Donna Jo – Family Member
The receptionist greeted me and the Director came out to tour with me. The residents were involved in a sing a long and it smelled good with no odors. The rooms were nice and clean. I liked the lay out of the common areas with lots of space but good visibility. My Mom is very social and I met lots of nice clients who would be a good fit for her.
Wow.. what a gem. I have visited many facilities and McMinnville Memory Care is doing a remarkable job. I found the Activities engaging and fun. They were having a group gathering with music and decorating the Christmas Tree. There were fresh baked cookies being made and lots of laughter was heard as the staff were very engaging with the residents. I'm grateful to have found this memory care for my Mom.
– Frederick Garvin – Daughter of Resident
Such a lovely building. The staff were attentive to needs while I visited. I enjoy the open area to move about and the Bistro, Fireside Room and Grand Piano to play. I was able to sing with the clients and found them so enjoyable to be around.
Michelle Larson – Visitor
Contact Us Today
We would love to provide you with more information on what our community has to offer!
SCHEDULE A TOUR TO COME SEE US ANYTIME
Located in a quaint neighborhood in Mcminnville, we think you'll love our community.
320 SW Hill Rd S
McMinnville, OR 97128